The 50 Most Delicious Things to Eat On an American Road Trip
It's a big country. Eat up.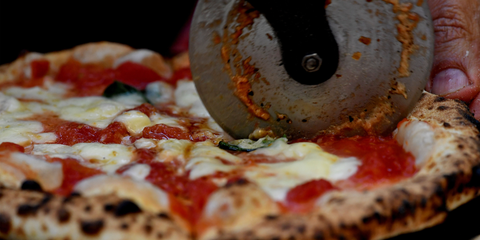 Tiziana Fabi
Getty Images
When you hit the roads , you realize our fair nation is a smorgasbord of deep-fried goodness. For the road-tripper who wants to truly travel like a local, here's the most authentic, unique, famous, and potentially weird food to enhance the experience.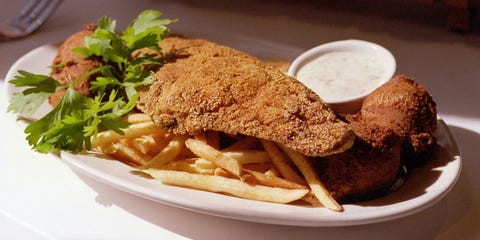 Wherever you go, you'll find fried anything: chicken, steak, apple pie, green tomatoes. But if you're driving along the Coastal Connection Scenic Byway, catfish holds a special place in the heart. And so do the noodlers who can grab a catfish by their bare hands, throw it into a fryer, and serve it with a side of fried dill pickles.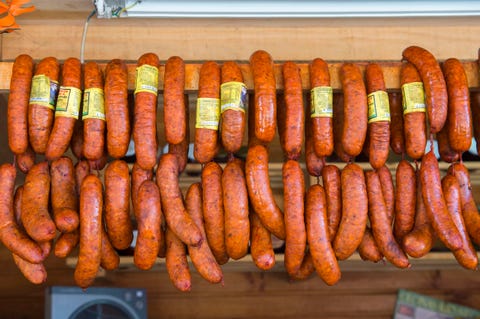 Reindeer sausage may not engender any favors with Santa Claus, especially when he lives down the street. But despite the magic of the season, reindeer is just another tasty meat to turn into sausage—knowledge shared by the residents of Norway, Finland, and Anchorage.
Founded in 1922, El Charro Cafe in Tucson is the oldest Mexican restaurant in the country, and " home of the chimichanga ," when founder Tia Monica Flin accidentally dropped a burrito into a deep fryer. "She was about to lash out a common Spanish cuss word starting with 'Ch,' says the restaurant, but because she was amongst her young nieces and nephews, changed it to 'Chimichanga,' the equivalent of 'thingamajig.'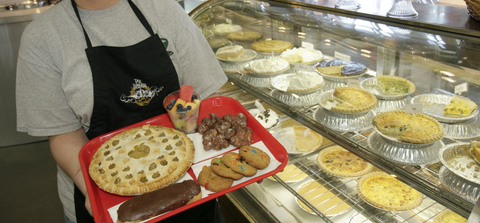 It's the ansas, according to diehard Arkanites. "Its name comes from the fact the pie is 'playin' possum,'" says one : "you don't know what's in that pie until you cut into it." What is in it: chocolate, cheesecake, and pecans. What's not: real possum.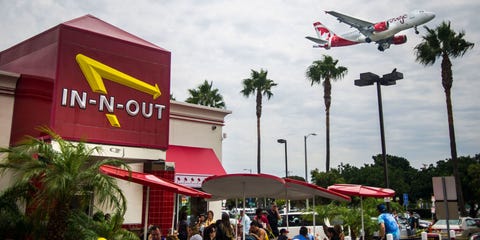 California: In-N-Out Burger
Is it overrated? Maybe, but the simplicity and cheapness of In-N-Out makes it one of the best burger chains in America, as Californian as dirt-cheap avocados. There's practically nowhere you can drive from San Francisco down the coast and not find at least one.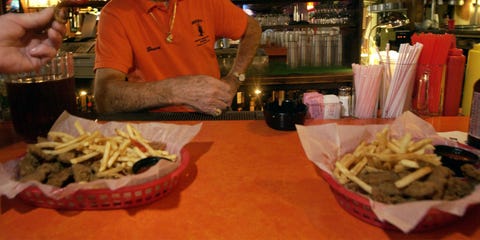 Colorado: Rocky Mountain Oysters
Rocky Mountain oysters are bull's testicles. There it is. But, pig and sheep balls can also be used (obviously), deep-fried and served with cocktail sauce. Hey, the animals aren't gonna use them anymore—waste not, want not. There are a dozen names, too: prairie oysters, calf fries, criadillas, huevos de toro , Montana tendergroins, cowboy caviar, swinging beef, Chicken McNuggets. Ok, maybe not that last one.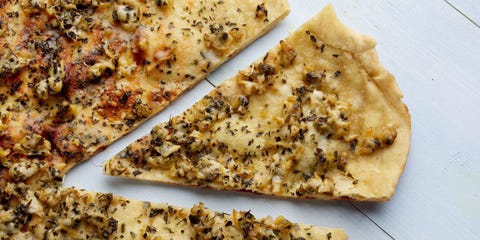 Connecticut: New Haven-style Pizza
Just down the road from New York's thin-crust slices, pizza New Haven developed its own permutation. New Haven-style is a pizza with a thin hand-tossed crust, charred to a crisp in coal ovens, sporting few toppings. Clam is one of those, incidentally.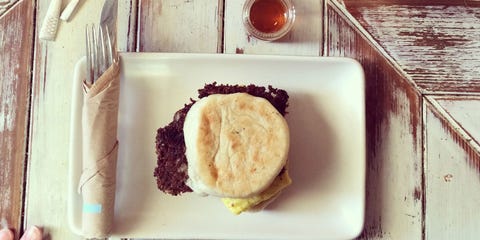 Every year the town of Bridgeville, Delaware, hosts the Apple Scrapple Festival, celebrating apples, which is a well-known foodstuff, and scrapple, which is not. Scrapple is the leftover bits of pork trimmings mixed with flour, pounded flat, and pan-fried. Buy it in the freezer section, eat it on a sandwich, then head to Bridgeville to check out events like Ladies Skillet Toss, Scrapple Chunkin' Contest, and the crowning of this year's Little Miss Apple Scrapple.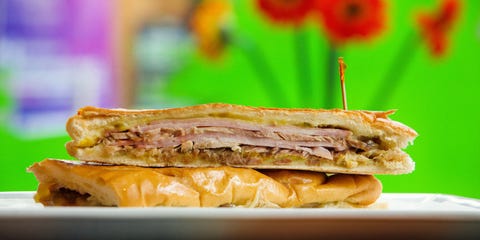 A sandwich says a lot about a place, and nowhere is that more evident than in the sandwiches brought by Cuban workers in the 1800s. The key to a perfect Cuban sandwich isn't the saltiness of the ham, the flavor of the pork or the perfect amount of pickle—it's the bread. If it doesn't have a thin crust and light interior, it just won't do.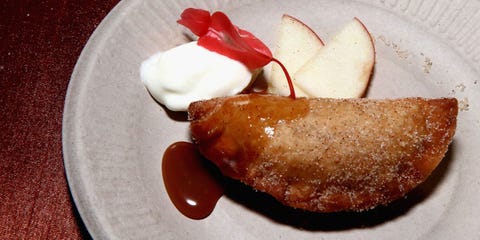 Georgia is the land of peaches, and frying makes everything better. They're best served with vanilla ice cream and powdered sugar. Plus, you can always add moonshine to it.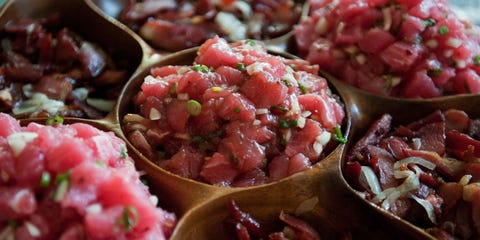 As if sushi itself weren't popular enough, Hawaii's beloved raw fish salad is enjoying a surge in popularity on the mainland: restaurants are serving up poke bowls in nearly every major city in America.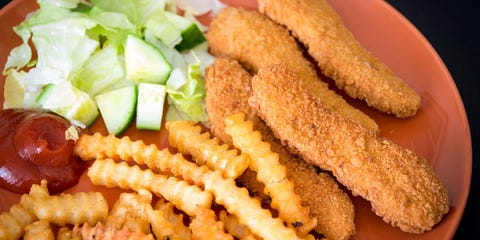 You'd expect something with potatoes from the state whose license plate says, "Famous Potatoes," right? Well, for the record, these things kinda look like potato wedges. Thin strips of sirloin steak, battered and deep-fried, makes for a foolproof snack, especially on the road. And if you insist, you can order it with a side of French fries. But then again, you can probably order anything with a side of French fries.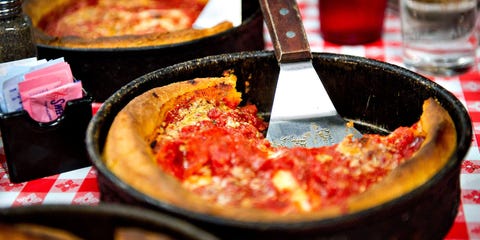 Illinois: Deep Dish Pizza
We'd expect nothing less from Chicago—although the argument may fall to what's the more iconic Windy City serving: a Chicago dog from Hot Doug's or a deep-dish from Lou Malnati's. In the end, we had to side with a pizza whose slices are a foot thick, with toppings, cheese and sauce all piled on a mile high.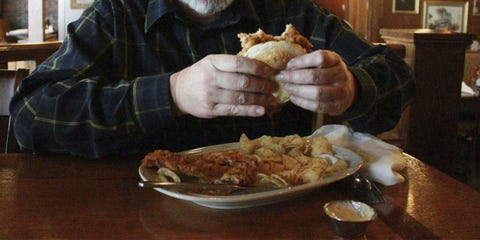 Indiana: Pork Tenderloin Sandwich
The term "sandwich," of course, is relative. A slab of pork that's breaded and deep-fried makes for simple pleasures, especially when consumed atop an RV parked in the infield of the Indianapolis 500.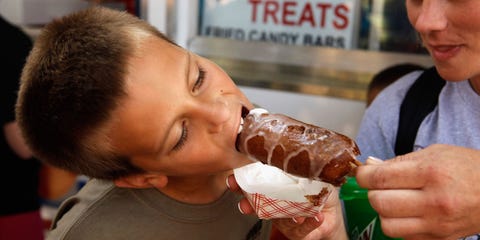 In 2016, over a million people descended upon the Iowa State Fair, and a good percentage of them probably ate one of the 75 food items served via stick: fried fruit kabob, Twinkie log, Rib Shack Cowboy, griddle stick, funnel bacon on a stick, tater dog on a stick, Italian bacon wrap on a stick, and something called "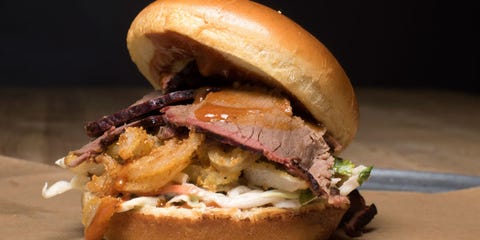 It's the Z-Man! A barbecue sandwich named after a sports talk radio host, it's thin-sliced brisket, melted provolone cheese, and crispy onion rings.
Invented at the Brown Hotel in downtown Louisville, the Hot Brown sandwich is simple: one slice of white bread, turkey and bacon, Mornay sauce, and cheese. Broil until bubbly. It's " Louisville's Culinary Legend ," says the hotel, and what's more, it's far less ubiquitous than that other Kentucky culinary legend. You can also swap out the bread for a bun.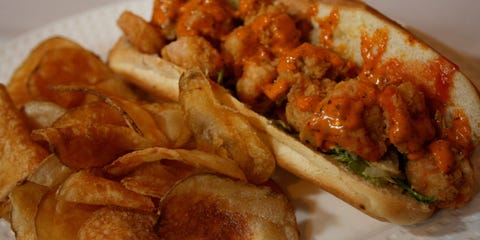 Sandwiches across America have so many names: submarine, hoagie, grinder, hero, blimpie, wedge. But a po-boy is something special: warm, fluffy French baguette, topped with mayonnaise and all the fixings, stuffed to the gills with deep-fried shrimp or crawfish until they're spilling out of your hands.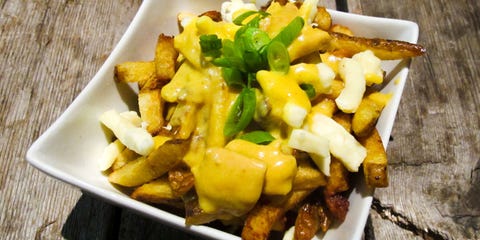 It's not easy keeping tabs on our pesky Canadian neighbo(u)rs and their equally strange food habits, but someone's gotta do it. Take 295 north and make the scenic drive a deux country road trip. On the way, eat all the lobster poutine you can. It combines Maine's most famous export of sea bugs and Canada's most famous gravy, cheese curd.
There's probably no other food or crustacean more associated with Maryland. The appropriately-named Crabcake Factory USA in Ocean City serves up the state's finest crab cake . The secret? Cut the filler and pile on the crab meat. And, presumably, whale-sized amount of Old Bay seasoning.
, and the "Best Sandwich in Sandwich" contest. But you saw that coming, didn't you?</p>" title="Massachusetts food" class="lazyimage lazyload" data-src="https://hips.hearstapps.com/roa.h-cdn.co/assets/16/44/1600x800/landscape-1478291506-massachusetts-gettyimages-588184758.jpg?resize=480:*">
Massachusetts: Lobster Roll
Lobster rolls, big chunky cuts of lobster slathered in mayonnaise and chives, are so abundant in the Bay State that grocery chain Stop N' Shop has 'em for $6.95, and they're not bad. Bonus points if you get a lobster sandwich in Sandwich, Massachusetts—home of the annual Sandwichfest , and the "Best Sandwich in Sandwich" contest. But you saw that coming, didn't you?
A true Detroit-style hot dog is topped with chili, raw onions, and one line of mustard, and best served at Lafayette Coney Island or American Coney Island, one of the most bitter restaurant rivalries in the country, if not the world. You might as well try 'em both—seeing as they're right next to each other.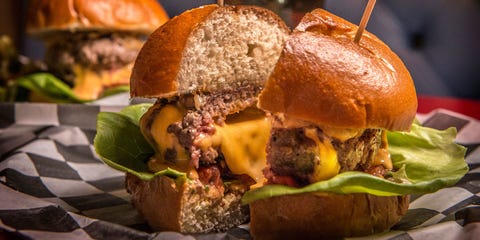 Minnesota: Jucy Lucy, Matt's Bar
It's the epitome of food efficiency: why not stuff cheese inside a hamburger patty? Matt's Bar in Minneapolis purportedly started this whole Jucy Lucy thing, grilling them en masse right behind the bar, thereby keeping the tradition alive across the Twin Cities. Bite in, feel the crispy patty that's been grilled to perfection, then the nuclear-searing burn of molten-hot American cheese laying waste everything in your mouth.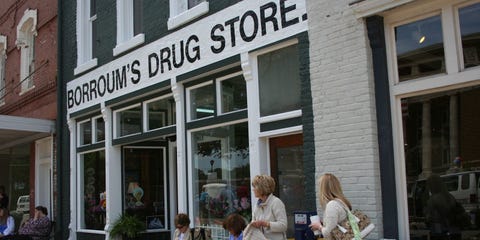 During the Great Depression, chef John Weeks of Corinth, Mississippi found a way to stretch a meager ground beef supply for the week: by mixing it with potato flour. Each burger cost a nickel. A nickel was called a slug. Hence, the slugburger. You can still get them at Borrum's, the oldest drugstore/soda fountain in the state.
Missouri: St. Louis-Style Ribs
"On a per capita basis," says St. Louis Magazine , "St. Louis consumes more BBQ sauce than any other city in the nation." Chances are, that slightly sweet, tomato-based barbecue sauce may have been your first impression of barbecue in your young, meat-eating life. You could even carve out a road trip designed to just hit the best BBQ joints in St Louis and Kansas City. Can't beat the classics.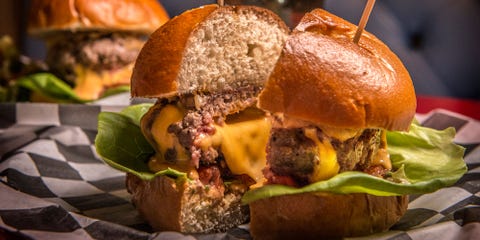 When you've got so much big game roaming around your great state—all 147,000 square miles worth of it—might as well turn 'em into burgers. The majestic elk makes its way into meatloaf, jerky, carpaccio, but it's also the perfect way to take your burger game to the next level.
Nebraska: Reuben Sandwich
This may come as a shock to every city-slickin' sandwich enthusiast up and down the Mid-Atlantic coast, but the Reuben was invented in Nebraska, not Manhattan. Yes, it was invented by a man named Reuben . In the Fern Room of the Blackstone Hotel in Omaha , for that matter, and during a card game, which is how all great sandwiches are born.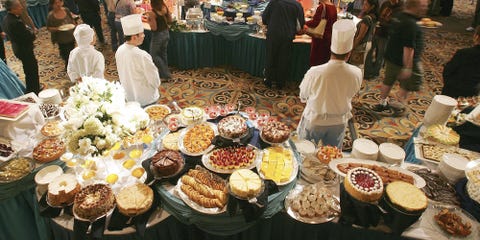 Come out of the desert and onto the strip. Las Vegas is nothing without wretched excess, and wretched excess is nothing without the never-ending, 24-hour, all-you-can-eat buffet. Flying in fresh lobster and Alaskan king crab into the middle of a desert is the surest sign of pure decadence.
What's so special about New Hampshire pancakes? Well, it's mostly due to one place called Polly's Pancake Parlor , a 1880s carriage house overlooking the White Mountains' Presidential Range that's done one thing and done it well. Being smack-dab in the middle of New England means maple syrup and apples, too, and the delicious fusion thereof. Hits the spot after a morning drive through the mountains.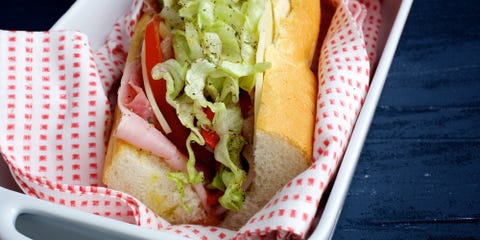 Generations of drunk kids at Rutgers University will tell you how great it is to order a fat sandwich from a "grease truck:" both an integral college experience and a cause of the "freshman 15." Variations exist on the sub roll filled with any combination of intensities: burgers, fries, mozzarella sticks, chicken fingers, bacon, egg, gyro filling, used football jerseys, kitchen sinks, the front bumper of a 1977 Buick Skyhawk.